Astrology
Procyon Consecration Election & USNO Page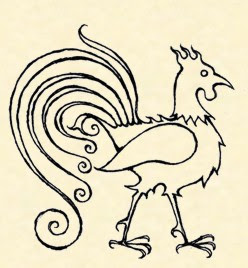 Folks, I was really surprised by the strong positive response to the new Procyon/Jupiter double talismansNote the image of a frizzly rooster!
We've shipped the new talismans and many will have already received them. Since this is both a Jupiter and a Procyon talisman combined, it should get both a Jupiter and a separate Procyon personal consecration, unless you can find a combined election. Obviously this may not be possible, so two separate elections are fine.
Ok, let's step back a bit and talk about the personal consecration. Now all Renaissance Astrology talismans and in fact all astrological talismans, need to be consecrated when they are created. We need to create astrological talismans at an astrologically auspicious time and also to call the appropriate spirit into them at that time. So all Renaissance Astrology talismans are "charged" though I prefer the formulation, ensouled.
The personal consecration is for the user to courteously introduce themselves to the spirit or spirits of the talisman. To bring the "energy" already in the talisman to the user. What this means is that since the talisman is already created, and the energies present at the time of the making fixed, that the election for the personal consecration is much less crucial. We just want to get in touch with the spirits.
So for Jupiter this is pretty easy, use the planetary hour of Jupiter. The planetary day is a bonus, but the hour is key.
For Procyon and other fixed stars, while we would like the Moon applying to conjoin, sextile or trine of the fixed star for a talisman, for a personal consecration we can have the fixed star just rising or culminating.
So we are lucky to have the USNO to provide us with the times of planet and star risings, transitings (what we call culminating) and settings. Here is the special USNO page.
In this case, it is even easier because Procyon is one of the celestial objects specifically listed on the page. I'm going to go further and provide a good date, September 18, 2014 when the Moon is applying to conjoin Procyon. So for that date plug in your location and select Procyon. Then look for Procyon transiting. Start your personal consecration 10-15 minutes before this time and end 10-15 minutes after.
Easy! Thanks USNO!
-
Fixed Stars ? Venus Conjunct To Procyon
From late tonight (1st Sept 12) into Monday evening (3rd Sept 12 - London time), Venus makes a conjunction to the fixed star Procyon, the main star in the constellation of Canis Minor (The Little Dog). Procyon precedes the arrival of Sirius ?the Shining...
-
Using Usno Website For Fixed Star Elections!
Folks, I had posted earlier about the US Naval Observatory website which has a great page on rising, transiting(culminating) and setting times for any world location for planets and many stars. Now I've really done it! I have a great new Renaissance...
-
Usno Page For Astrological Magic: Part 1
While there is some good astrological chart drawing software online, for example Astrodient use "chart drawing Ascendant" you need a good deal of training to use full chart software for astrological magic. For planetary talismans, my PMP, planetary...
-
Recharging Talismans?
I checked out some of our traditional sources and they seem to support the common sense idea that talismans do indeed wear out. Picatrix, for example says that the talismans made using the fixed stars have more enduring effects than planetary talismans....
-
How To Do Fixed Star Talisman Elections
My software guy, Peter, was working on a new program, Stellis, for fixed star elections, but he is having problems with illness in his family so I don't know if Stellis is going to get off the ground. Basically it would have automated the process...
Astrology