Astrology
New Mercury Anti-Poverty Protection Talisman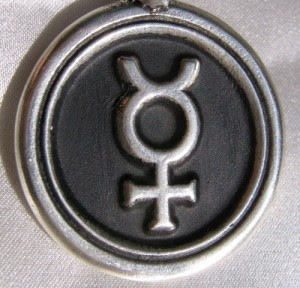 I was reading Agrippa and noticed that he says of Mercury talismans that they, "render the bearer thereof gratefull, and fortunate to do what he pleaseth: it bringeth gain, and prevents poverty, conduceth to memory, understanding, and divination, and to the understanding of occult things by dreams:"
Three Books of Occult Philosophy
, Bk II, ch 22.
Bring gain and prevent poverty, eh? That's sounds pretty good just about now!
So I am pleased to present a new Mercury talisman.
These are smaller than the standard Mercury talismans but packed with the same savvy, cunning, clever Mercurial energy, just what you need to negotiate the current financial path, strewn as it is with avalanches and rockslides.
These talismans are 1/2 the price of the standard Mercury talismans, just $99 plus shipping. Shipping is $12.95 for insured US shipping, $29 for insured non-US and while I don't recommend it, you can ship non-insured non-US for $14.95, however this means you bear the risk of loss!
If you are into astrological magic at all, you really owe to yourself to us it and get as much help as you can financially for now and for the foreseeable future. Wade and I specialize in wealth, prosperity and financial talismans! We both have very strong Jupiters and it shows in the results we get personally and for our clients with money talismans.
The new Mercury talismans are a great and affordable way to tap into the power of astrological magic and Mercury himself, who is particularly suited to sales, marketing, stocks, investment, Internet and high tech ventures, as well as writing, communications, occult knowledge, magic and astrology.
Check out the new Mercury talismans here
-
Mars Talismans & Pentacles!
I got a HUGE shipment of new talismans from Wade yesterday! I was like a kid in a candy store looking at all these new talismans & pentacles. One surprise was that the guy that did the finishing decided to go ahead and gold plate everything, WOW, all...
-
These Are Talismans Not Jewelry: Switching To Bronze
When we first started casting talismans at Renaissance Astrology, we used to occasionally cast in gold, but the price quickly became stratospheric. Ok, we'll use silver. But we've had to slow down our castings drastically in 2011 because of the...
-
House Protection Talisman
I got what I call a rabbit hole question asking me about house protection talismans. It seems like a small question, but when you explore it it keeps expanding. I thought, well let's see what our traditional sources say, surely there must be house...
-
Love & Wealth House Talismans
My new current chart is for the FABULOUS Love & Wealth talismans on January 5, 2009! These are pretty incredible, since they are house based talismans and combine the strength of exalted Venus, exalted Mars and the exalted Moon, serious talismanic power!...
-
Saturn Magical Rings Pre-orders!
I have had such a strong response to the Saturn magical rings that I am going to start taking pre-orders! This is how we are making them. Wade will cast signets, the flat top part of a ring with the design, in this case the standard symbol of Saturn,...
Astrology