Astrology
Saturn Magical Rings Pre-Orders!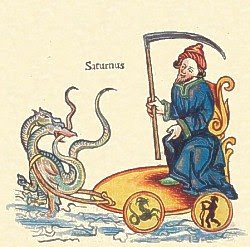 I have had such a strong response to the Saturn magical rings that I am going to start taking pre-orders!
This is how we are making them. Wade will cast signets, the flat top part of a ring with the design, in this case the standard symbol of Saturn, along with the other Saturn talismans on November 24, 2008. Saturn Talisman & Ring Election
Then Wade will custom make the ring, either in sterling or 14k gold for each client. At Saturn day, Saturn hour, Wade will mount the signet on the magical Saturn ring, placing a small amount of pine, ruled by Saturn,
Three Books of Occult Philosophy
, Bk I, ch 25 &
Christian Astrology
, page 59 and harvested Saturn day, Saturn hour, under the signet. The ring will thus be doubly consecrated, at the creation of the signet and then at the mounting of the signet on the custom ring.
We have a number of different versions. Sterling silver ring and sterling silver signet are $300 plus shipping in ring sizes, 7, 8, 9, 10, 12; $350 plus shipping in ring sizes 6, 6.5, 7.5, 8.5, 9.5, 10.5, 11, 11.5, 12.5, $600 plus shipping in any other ring sizes.
Sterling silver ring and 14k gold signet, add $300 to above prices, pre-order before November 15, 2008 only.
14k gold ring and sterling silver signet, $2000 plus shipping
14k gold ring and 14k gold signet, $2500 plus shipping, pre-order before November 15, 2008 only.
Shipping is $14.95 priority insured in the US, $34 non-US global express insured mail for rings costing $600 or less. Contact me for the non-US shipping for rings costing over $600.
Anyone who is interested in pre-ordering a Saturn ring which is the only way to have the 14k gold signet versions, please e-mail me at
[email protected]
for an order page and further details.
-
These Are Talismans Not Jewelry: Switching To Bronze
When we first started casting talismans at Renaissance Astrology, we used to occasionally cast in gold, but the price quickly became stratospheric. Ok, we'll use silver. But we've had to slow down our castings drastically in 2011 because of the...
-
Deneb Algedi Mirrors & Talismans
I was very pleased with our recent Deneb Algedi election! I had my best mirror etching yet, thanks to help from my wife Kathleen, with the stencil cutting. I got a real sense of peace and contentment from doing this election. We had a lot of participation...
-
Complete Picatrix Pre-orders!
Faster than I ever could have expected, we can now begin pre-orders for the Complete Picatrix! There are four different versions, leatherbound, clothbound and print on demand hardcovers and paperbacks. You will be among a select few to have the first...
-
Planetary Rings From The Book Of Treasure Of Alexander
The planetary rings from The Book of the Treasure of Alexander are very interesting and quite characteristic of astrological magic. We note that they are created when the planets are in the degrees of their exaltations, translated here as the degree...
-
New Mercury Anti-poverty Protection Talisman
I was reading Agrippa and noticed that he says of Mercury talismans that they, "render the bearer thereof gratefull, and fortunate to do what he pleaseth: it bringeth gain, and prevents poverty, conduceth to memory, understanding, and divination, and...
Astrology