Astrology
New Moon/Solar Eclipse in Pisces Forecast (March 20, 2015)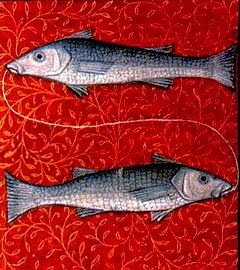 There are four things you must know about the New Moon at Pisces 29 degrees on March 20. First, the Moon ends a cycle at 29 degrees. Second, the Moon quickly transits into Aries along with the Sun ushering in the Vernal Equinox. Third this marks the third Super Moon of 2015 and finally, this Moon ushers in the first Solar Eclipse of the year. And all this plays over a backdrop of the final exact square between Uranus and Pluto which ends on March 28.
To understand this New Moon, let?s explore the Sign Pisces, known as the fish swimming in two directions. Pisces is a Mutable Water Sign with the planetary ruler Neptune. Though in traditional astrology, Jupiter ruled the Sign of the Fish. Pisces are psychic, usually spiritual, creative, shy, whimsical and enchanting. They often have large watery eyes, especially the Pisces Ascendant and Moon. You can find many Pisceans in the world of dance, music, movie making and photography, but also in science, and alternative healing practices, life coaching or teaching a yoga class (not mentioned in the video).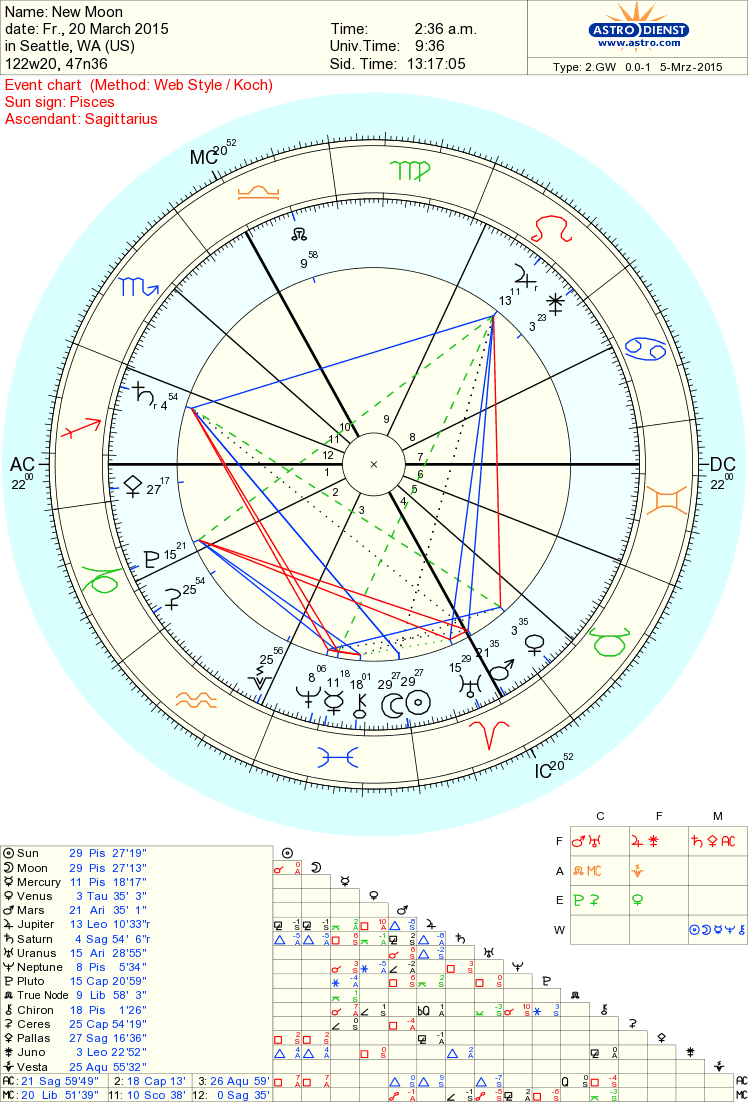 Chart for Seattle, WA on March 20, 2015
This New Moon also marks the first Mutable Sign New Moon of 2015, a year in which we experience powerful Mutable transits with Neptune and Chiron in Pisces, Saturn in Sagittarius and in August, Jupiter rolls into Virgo. Mutable energy brings restlessness and change, usually on the verbal level first. In April we experience a Mutable T-Cross with Venus in Gemini opposing Saturn and squaring Neptune so we have that too look forward to along with the Saturn-Neptune square that takes place most of 2015, exact in November.
As I mentioned in the Full Moon in Virgo video earlier, now is a time to take good care of your feet. Blisters, sprained and strained feet can occur now. Choose footwear based on comfort and not as a fashion statement now, get foot massages and soak your feet in Epsom salt and warm water.
Stay grounded during this time by engaging the hips and feet in dance. Be it trance dance or free dancing to West African drums. We could also use this time to escape stressful situations by watching movies, making movies (anyone can make short movies and post them on YouTube), photography and making music. Sing, dance but stay away from intoxicants since it?s too easy to feed addictions or become addicted now.
Most important we are ending one cycle and beginning a new cycle now just as we say good bye to winter and hello to spring. Between the Full Moon on March 5 and the New Moon on March 20 is a good time to clean out closets and storage units, give away what no longer serves you. Make room for the new by getting rid of the old. Recycle, re-use and re-purpose. I?m fortunate to live in a community with recycling programs for just about everything.
Whatever you do around the New Moon, I wish you a happy March 2015.
If you would like a personalized reading, sign up at Metaphysics for Everyday Living. Click on the Whole Astrology tab for fees, services and methods of payment.
-
February New Moon In Aquarius Setting Off Unexpected Fireworks
Wikipedia It's confusing enough that the New Moon for February lands at 29 degrees and 59 minutes Aquarius since it's one minute from a Pisces Moon. Add 5 planets in Fire Signs and outer planets in tight squares and fireworks of one...
-
It's Your Turn Mutables--saturn Neptune Square
As I already mentioned in my astrological forecast for 2015, people with Natal Planets in Pisces, Gemini, Virgo and Sagittarius are going to experience outer planet transits. Saturn just moved into Sagittarius, Neptune has been in Pisces for several...
-
Swimming In Other Worlds--pisces Sun Transits
photo by Patricia Herlevi Ever wondered why astrologers refer to Pisces as a fish with two heads or a fish swimming in two directions? If any of you feel like you're floating through surreal waters or just can't seem to get your feet on the...
-
Pisces--a Fish With Two Heads
by Patricia Herlevi Spotlight on Pisces Sign: The Fish February 18 - March 20 Planets: Jupiter and Neptune Rules: Feet and lymphatic system I once read in Linda Goodman's "Love Signs" that there are two types of Pisces men--the hopeless...
-
Poseidon's Astrological Adventure (month Of Fishes)
As you probably know already, I have a thing for Neptune and during the months of February and March, we will experience a large dose of Piscean/Neptunian energy. The personal planet Mars moves into Pisces on February 3, followed by Mercury on February...
Astrology