Astrology
Fireball Mars Learns to Balance the Scales (6 month transit in Libra)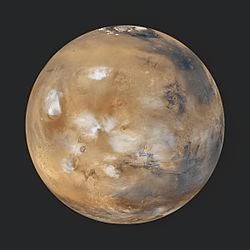 Mars, Wikipedia
As I had mentioned in earlier posts, Mars entered Libra on December 16 and will stay in this sign until July 27 when the planet finally moves into Scorpio. In this post, I will cover the highlights of this Mars transit through direct motion and retrograde and we can fine tune as we go along. Normally, Mars in Libra would not be a big deal because this is the weakest position in the Zodiac for Mars and usually Mars stays in a sign for 2 to 4 months depending on its motion. And normally we don't have most of the outer planets in Cardinal signs with two planets going retrograde in Cardinal signs as we do for the next several months.
We do get relief from all this Cardinal energy with Neptune and Chiron in Pisces and Saturn in Scorpio which at times trine Jupiter in Cancer and sextile the planets moving through Capricorn. It does get interesting when we have Grand Crosses with Jupiter in Cancer, Pluto in Capricorn, Uranus in Aries and Mars in Libra, but we also need to look at the role Mars is playing which is that of a peace warrior. What we have as far as I can tell is a standoff between two emerging energies on the planet, activism (missing the spiritual component) and alternative spirituality of the Light Workers who resemble both spiritual warriors and earth angels and both of these forces are going to battle with darker, denser energies on the planet. If this is beginning to sound like the movie
Star Wars
, well, then you get the picture.
Last time we witnessed Mars in a Grand Cross, Mars was in Aries so we should now expect to experience the opposite scenario. When Pluto and Uranus go at each other, Mars comes in holding a peace sign. He understands Uranus need to rebel and give power back to the people, but he also understands Pluto's autocratic control freak urges. Meanwhile, Jupiter in Cancer takes on the role of the mother like warrior who will defend her children and make sure everyone has food on their plate. Jupiter in Cancer cares about the future, but also gets so caught up in expansion that we forget about the problems that come with overpopulation. Jupiter types are not known for acting responsibly and then they shove idealism in our faces so we lose track of our reality.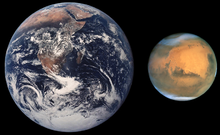 Earth and Mars, Wikipedia
Well, right away in January and in fact on January first, we start the year off with a Grand Cross (if we include Jupiter), though not exact with Mars in Libra at 11 degrees, Sun, Mercury (12) and Pluto (11 degrees) conjunct Moon in Capricorn at 10 degrees, Uranus in Aries at 8 degrees and Jupiter in Cancer at 16 degrees. Again, this includes a wide orb between Jupiter and Uranus, but I believe we're going to feel the brunt of this cross anyways. We must remember that Jupiter is retrograde at this time and an expansive planet so it's energies are far reaching. On January 3, Mercury opposes Jupiter exact and then on the 8th, Mercury conjuncts Venus exact in Capricorn. Mars squares Jupiter exact on the 8th and square Venus from the 12th to the 22nd with Venus in retrograde motion. On the 7th, the Aries Moon opposes Mars in Libra and from the 1st until the 8th, Mars opposes Uranus (the exact opposition occurred the 26 and 27th of December, note while I'm writing this post, this is an upcoming transit, but in January it has already passed by).
So after seeing that list of transits occurring the first eight days of January 2014, I think we are going to take the Cardinal energies seriously. This really is a time to take deep breaths, take up a meditation practice, watch favorite spiritual movies and videos on YouTube, get yourself to your yoga classes or at least on the yoga mat each day and if you need to, seek therapy to deal with issues that surface during this intense time. Practice kindness for yourself and others and bless each day as you live it, not looking too far ahead. Don't worry about the future now and just step into each moment as it comes. The future will take care of itself based on the steps you take now.
We experience some relief when Mercury moves into Aquarius on January 12 and we can distance ourselves from our emotions and be able to see the bigger picture of humanity. Mercury forms an exact trine with Mars on January 25th and the Sun will also be in Aquarius at this time allowing us to distance from our emotions or at least not over identify with emotions. This could be an inventive time or that we come up with solutions to problems we faced in recent weeks that come to us from out of the blue. Look for intellectual inspiration at this time.
Venus in Capricorn squares Mars from January 14 until the 23rd. Perhaps this is a good time to get out of our minds and into our bodies. We actually get a double Venus theme going here with Mars in Venus' sign Libra and Capricorn rules the structure part of our body. We need to bring balance to your health and especially our skeletal structure. Stay grounded at this time in order to remain in balance of mind-body-spirit. Again, I think meditation is a good idea even if some of you reading this think that you don't have time for meditation. Ask yourself how much time do you spend caught up in drama or watching the news, or ranting about something? Use that time instead to meditate and find peace within. If you look for peace in the outer world you won't succeed. It's an inside job.
On the 29 and 30, the Moon in Capricorn squares Mars in Libra, but this is a passing irritation or perhaps it recalls events caused earlier by the Capricorn stellium and if that is the case, then pay attention to circumstances that come up at this time. Venus goes direct on January 31st and that time we spent in contemplation pays off now and we can move forward in those areas of our lives affected by the Venus transit in Capricorn. Health issues could resolve at this time, but with effort on our part. Capricorn always requires some effort.
February is light on the Mars transits as the planet speedily moves forward, however, from the 24th until the 28th, Venus direct squares Mars and we revisit themes from January when these two formed an earlier square. On March 1st Mars goes retrograde and doesn't go direct again until May 19. This is Mars at its weakest in Libra and retrograde. We might feel exhausted during this time, especially if Saturn is also aspecting our Sun and at the least, we will not feel motivated or we could feel like our lives are out of balance. Venus moves into Aquarius on March 7 which brings relief and on the 30th Venus forms a trine with Mars in the Air (intellect) element. We might do some of our most balanced and best thinking at this time. Other than that, Mars does not aspect any other planet in a Cardinal sign. The North Node moves into Libra on February 19th (this is getting interesting because now our fate is involved).
In April we have opportunities for Sun opposite Mars and Mars square Jupiter and Mars square Pluto. In fact, the start of this month brings us a T-Cross with Sun/Moon and Uranus in Aries, Jupiter in Cancer, and Pluto in Capricorn with some of the orbs between planets exact lasting the first week of April. The Aries Sun opposes Mars from the 5th until the 13th and again, we're going to seek balance and experience the energy of peace warriors. Perhaps, we'll hear a lot of people quoting MLK and Gandhi at this time. Mercury conjuncts Uranus from the 13th until the 17th and opposes Mars during this time (what fun!). Okay, so April looks as stressful as January without the Capricorn stellium at least, now we have we have the fiery Aries energy instead to deal with.
(We will experience a Grand Cross this month with Mars in Libra, Jupiter in Cancer, Pluto in Capricorn and Uranus/Sun in Aries).
In May, Mars RX squares Jupiter and Pluto, and opposes Uranus the first week. And then it looks like we actually get a break even with Mars going direct on the 19th. Pluto and Saturn are in retrograde motion though there is that business with Jupiter squaring Uranus for the entire month. That's the mother going head to head with bad boy Uranus and this could be interesting. Look for hotheaded women going to battle in the news, but don't join them.
June looks interesting with Neptune joining Saturn and Pluto in retrograde motion and Mars goes to battle with Uranus. Then in July, Mars crosses swords with Jupiter as both race their way to new signs, Jupiter will soon move into Leo and Mars into Scorpio. And to complicate matters, Saturn goes direct and Uranus goes retrograde, but we'll get to that later in 2014.
Earlier this year I saw some fear about Mars in Libra coming from astrologers then I listened to Mark Husson's Power Peak Hour (Hay House Radio) and Mark put a positive spin on Mars in Libra. However, I think the truth lies somewhere in the middle. Don't fool yourselves into thinking that the next six to seven months will be easy ones. We will not experience the water flowing aspects of last year's Pisces stellium or the Grand Water Trines of 2013 (though we will experience some water trines). We are going to endure the crosses in the Cardinal quality, but ultimately this brings us necessary change. Perhaps you will only change the corner of your world by changing your perception. Perhaps you will rally with others and make huge changes in the world. All I can predict is in some way each of us will transform our lives. Don't ask me what this looks like because that's up to each of you to manifest what works best for you. Full steam ahead.
If you tune into Neptune's energy in Pisces for relief, refrain from alcohol, drugs and shopping for shoes or you will overdo it to compensate for stress you feel now. Instead, listen to music, dance, watch uplifting movies and practice dream interpretation. Other good uses of Neptune in Pisces are spiritual practices, yoga, meditation, and things I already mentioned in the article.
If you tune into Saturn in Scorpio for relief, pay attention to your health now and transform your daily routine to bring you strength and vitality. Cut out unnecessary activities from your life and negative people. You might need to practice ruthlessness and cut away toxic attachments (you know who they are) so you can move forward on your life path. If feelings of guilt come up in the process, hand those over to God, the angels or your spirit guides to dissolve.
(I made corrections on this post on January 5, 2014 and on February 16).
-
April's Big Transits Simplified
Many astrologers and intuitives see April as a volatile month or if they gaze positively at the month, April represents another big shift. First, we will experience a Lunar Eclipse in a cardinal sign, the North Node in Libra and Mars spending...
-
Cardinals Marching On--forecast For March 2014
photo by Patricia Herlevi, Late Winter Since it's pouring rain outside with wind gust up to 50 miles per hour, I'm sitting cozy in front of my laptop. So what a great time to write about March's transits. If you're now used...
-
Spotlight On Mars In Libra Rx (march & April)
Surface of Mars, Wikipedia (I don't normally focus on the personal planets, but lately these planets have been creating major planetary events such as Venus in Capricorn for over 6 weeks and Mars in Libra for a stay of 7 months. These...
-
February 2014 Astrological Forecast---seek The Innerworld & Avoid Frustration
photo by Patricia Herlevi (These monthly forecast posts take several hours to research and type. If you find this information meaningful, please donate through PayPal on the right side of the blog. Donate $20+ US equivalent and receive a one-question...
-
Cardinals Are Coming--december 2013 Forecast
Mars, Wikipedia We are only at the halfway point of November and already my thoughts are drawn to the upcoming December transits because once again, we will be visited by the Cardinal energy with most of the planets in Capricorn, Aries, Libra and Cancer...
Astrology