Astrology
Spotlight on Mars in Libra RX (March & April)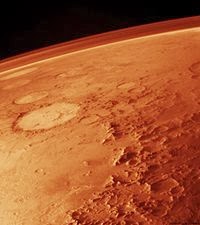 Surface of Mars, Wikipedia
(I don't normally focus on the personal planets, but lately these planets have been creating major planetary events such as Venus in Capricorn for over 6 weeks and Mars in Libra for a stay of 7 months. These planets have also entangled themselves in T-Crosses and Grand Crosses, as you will see coming up and have already experienced in recent months. The personal planets have captured my attention for these reasons).
Since I already posted an article on the entire Mars in Libra transit ending in July 2014, I'm focusing only on the Mars in Libra transit while the Sun is in Pisces and Aries for this article. You can go to
http://wholeastrology.blogspot.com/2013/12/fireball-mars-learns-to-balance-scales.html
I'm actually picking up a gigantic theme of Balance for March and April with Mars and the North Node in Libra. When the Sun and Mercury travel through Pisces we will experience a softer effect,. maybe too soft doling out compassion without discernment, not that compassion is ever bad, but we could feel ourselves getting sucked into a vacuum of other people's neediness leading to psychic burnout. When the Sun and Mercury transit in Aries, the Mars in Libra will oppose bringing out the theme of balance between the saint and the warrior, but also bringing with it frustration. Anyone playing passive-aggressive games at this point might find themselves on the other end of abuse and violence. Watch out for any of these games playing out in the subconscious level and you do this by watching other people's reaction to you.
If you point the finger enough at passive-aggressive people or those who micromanage the people in their lives, then you can bet you're also doing this on some level. Now is a good time to use other people as mirrors that reflect our own behavior back to us. This takes a great deal of honesty and integrity. This reminds me of Carlos Castaneda's books about the impeccable warrior. That's what Mars asks of us when it transits in Libra and the retrograde motion allows us to travel back in time and track our mode of operation behavior. Remember though that we have a choice of how we behave now even if we were less than impeccable in the past. We all have this challenge placed in front of us and for 7 months if we look at the entire Mars in Libra transit. It wouldn't hurt to re-read Castaneda's or Paulo Coelho's
The Alchemist
and
The Pilgrimage
.
We start off March with the Mars retrograde (from day one) at 27 degrees which conjuncts the North Node in Libra at 29 degrees. The orb isn't exact, but we will feel it until the 22nd and the Sun moves into Aries on March 21st and Mercury moves into Pisces on March 18th so that will bring up themes of compassion and discernment. Mercury is still in the shadow of the February retrograde until March 22nd so mark that date on your calendar and see what types of stories surface at this time as well as, events in your life.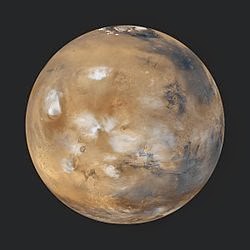 water and ice on Mars, Wikipedia
Also the first week of March (and this is significant), Venus at 26 degrees Capricorn squares Mars in Libra, until March 6, when Venus transits into Aquarius after a long stay in the Cardinal Sign Capricorn. Libra rules Venus and here Venus squares Mars in Libra. This tells me again that we must focus on balance. How do we balance our personal lives? How do we balance the way we approach the opposite sex or even the same sex? Issues involving divorce settlements could come up for some of you and also take good care of your kidneys and skin at this time since Libra rules the kidneys and Capricorn the skin. There might also be problems with kidney stones from too much calcium leaching from bones due to a poor diet. Did you know that consumption of too much animal protein leaches calcium from bones which leads to kidney stones and thinning of bones?
I wouldn't be surprised if kidney disease and other related illnesses make the news headlines the first week of March. Kidneys represent balance on esoteric and physical levels. So is it a wonder that Libra rules kidneys. With Mars in Libra, there could even be a problem with bladder and kidney infections that result in high fevers so pay attention to balance. Eat a balanced diet, drink plenty of purified water, and take herbs to keep your body in balance. March would be a good time for a physical too. I would do that at the beginning of the month. The other area we'll see in the news is cosmetic surgery for teeth with Mars in Libra and for some of this, it goes back to the ego of not feeling attractive enough. Stop already.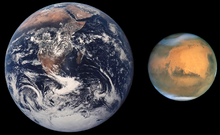 Mars and Earth comparison, Wikipedia
At the end of March, Mars in Libra trines Venus in Aquarius, starting on March 27 so this will help us think clearly about how we create balance in our lives. We will also see humanitarians in the news speaking about justice or environmental issues (Venus representing the earth).
On April Fool's Day, the Moon in Aries opposes Mars. From March 6 to the 12th, the Sun in Aries squares Mars leading to a battle of wills and egos exploding (could be some violent acts). This will grow more tense as Jupiter, Uranus, Pluto and Mars form a Grand Square/Cross in April (but we'll get to this later when I write the forecast for April).
So for now, seek balance in every aspect of your life. Contribute to ways to create balance in your community and the world. What can you do to relieve the earth of our human impact in the form of pollution and over consumption of natural resources? What do you need to live a satisfying life and what could you do without? How many cell phones do you need? How many gadgets do you need? Did you know that those gadgets are made from minerals extracted from the earth and usually on the lands of indigenous people who are trying to live in balance with the earth? And did you know that a life of multitasking is a life out of balance and according to Dr. Deepak Chopra, destroys your brain?
With Mars in Libra, let's put our relationships with others first ahead of distracting technology. And let's take a good look out in the world and see where our love and compassion are most needed. So get off the phone, roll up your sleeves and make a difference in balancing the forces on the planet.
Forecast for March coming up later this week.
-
Equinox, Sun In Libra And New Moon In Libra
WikipediaAs we move into the cycle of Libra, I remind you to live in balance with yourself, with the earth, with your body and with your community. If partnerships of any kind are not built on solid ground they could break apart now. ...
-
Lunar Balance (april 15 Lunar Eclipse In Libra)
The Lunar Eclipse at Libra 25 degrees brings upheaval that ultimately brings greater balance. As the Lunar Eclipse at 25 degrees Libra fast approaches, our focus shifts to the areas of our life out of balance. This happens on an individual and...
-
Combustible T-cross (pluto-uranus-jupiter) & Explosion In Nyc
Astrology transits tell stories. Here is one of those stories. I sometimes dabble in mundane astrology and today when I saw a news headline about a gas explosion in NYC that left buildings in rubble, I automatically thought of the current Cardinal...
-
Fireball Mars Learns To Balance The Scales (6 Month Transit In Libra)
Mars, Wikipedia As I had mentioned in earlier posts, Mars entered Libra on December 16 and will stay in this sign until July 27 when the planet finally moves into Scorpio. In this post, I will cover the highlights of this Mars transit through direct...
-
December 16 - 22--solstice, Changes, Transformation...
Stonehenge, Wikipedia As we move through the month of December, we reach a time period of many changes. On December 16, Mars moved into Libra and we feel the shift from fix-it energy to needing to get our lives and our emotions in balance. ...
Astrology