Astrology
From Persia to Iran
Today in 1934 Iran changed from being called Persia to Iran.
Astrologers try to find a time when something very important happens that effects all. In the case of Iran or Persia, the name change effected all Iranians.
It does not matter what your political or religious affiliations are, this moment in Iran's history is important. So to know where the planets are should shine a bit of light on the nature of the people.
One of the first things an experienced astrologer of Iran will tell you is that the ascendant of this chart is the same as the chart for the Coronation of Reza Shah.
Taking a quick look you will see how Saturn is in the 5th House of King. Saturn makes life very difficult where it is found. Hindsight is always 20-20 and we know that the Kings of Iran have not had an easy time. Saturn is in Bahman, which is political and our Kings have been political. The current ruler of Iran is political. And what is the angle for Saturn in Bahman? It is 24 degrees. What date did the Islamic Revolution is accepted? The 22nd of Bahman.
Next you will notice Mars so close to ascendant. Mars stands for military and the military have always had too much power. Enough said.
We always look at where Jupiter is. Unlike Saturn, Jupiter is where all the easy, lucky energy is. And wow it is in the 2nd House of money. Again in hindsight we know that Iran has had it moments of wealth. But then there are moments when it had not. So I looked at whether Saturn was passing through that part of chart and it had. In fact it has just moved into Sagittarius now in December 2014. So it should get better. But then it moves into the third house and we will have problems on the borders. But we have had plenty of that when Pluto was going through Sagittarius and we had war with Iraq.
Astrologers tend to look at where the Pluto Uranus square would be hitting this chart now. And just look at all the planets and the Sun in Capricorn. We have had nothing but pain in Iran. Honestly I looked at this chart and was looking at Venus 14 degrees Capricorn and wondered how at exactly this moment I am writing this report Uranus is conjunct Moon square Venus. Coincidence or just Fate. Ya Ahura.
So I just had to get all this out ASAP for all astrologers to look at. It looks like there is more to come for our country. But the women are in charge from behind the scenes. Quietly and sacrificing so much for the future is what Moon in the 12th means. Neptune is there too. It is in a very good angle to Venus at 14 degrees. That is where the Islamic women get their energy. Any force to take them on needs to be even more sacrificial than they are to the Ayatollahs. We will see something happening once Pluto finishes going through 14 degrees Capricorn in the next year. I guess we need Uranus at 14 as well to move this nation by this chart.
As you can see the chart pretty much describes the country we have. It is a sad story. The only way to change all this is when some complete new Republic or some other name is selected when everything changes completely from this year as Jupiter goes through the 12th and Uranus and Pluto begin to bite from 2016 when it is within 7 degrees to the Uranus at 27 degrees in Farvardin.
But one thing that is for sure going to happen, is Iran will prove most Astrologers wrong, as it has done so for so many years. There at least half a dozen charts for Iran and here is another one.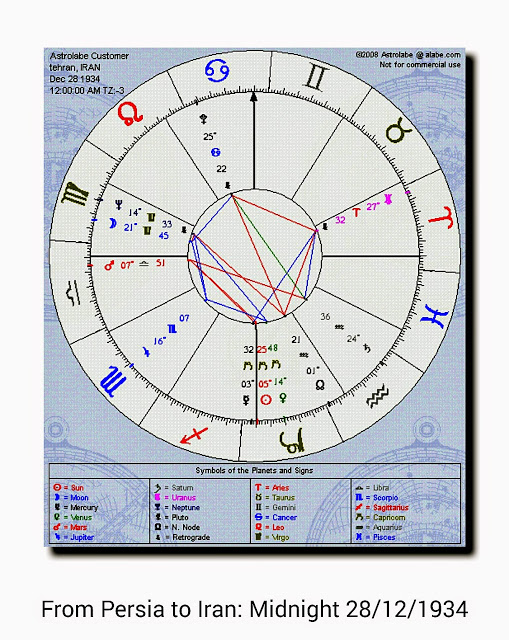 -
Iran Astrology: Astrology Of Iran
Ancient Astrologers always valued the time when Monarchy changed in a country. This could be whether he or she was alive or from death.On this day in 1980, the Shah of Iran, Mohammad Reza Pahlavi passed away. I have produced the chart for Noon GMT for...
-
Astrology Of July 14th 2013 Ayatollah's Islamic Republic Elections In Iran.
Astrology of July 14th 2013 Ayatollah's Islamic Republic elections in Iran.The Ayatollahs of Iran will allow the people of Iran, to cast a vote for their designated candidates, on 14th of July 2013.It is not an Iranian election as such, as there is...
-
Astrology Of Iran's Last King
Below are the positions of the planets and moon for the day Mohammad Reza Pahlavi decided to crown himself. We all know what happened to him. Planet Longitude Latitude Right Asc. Declination Sun 01 Sco 52'47" 0°00'01" 13:58:50...
-
Astrology Of Death Of Wim Duisenberg And King Fahd
I have been looking at my real times updating aspectarian all week end, and just wondering how in the world were these latest aspects taking place were going to materialize on Earth. In reading the web pages one cannot help but to come across Charni's...
-
Astrology Of: Ahmadinejad Wins Iran Presidential Vote
So that's it, we have the official announcement. Dr Ahmadinejad is the winner with much less than a third of the voting population. His mandate is weak, and he will be a stepping stone for major changes ahead. Anyway forget that. Let's look at...
Astrology