And this March, we also require hearty petals as we push our way through challenging aspects, mainly the final Uranus-Pluto Square, a Solar Eclipse and a triple conjunction (Venus, Mars, Uranus) in Aries. Ready, set, go!
Since the transits in March remind me of a Seattle traffic jam with a semi-truck blocking two lanes and service vehicles zooming their way to the scene, I'm going to personalize this article. I urge you to pay attention this month to road changes up ahead. While on the surface this looks like the average everyday commute, big changes are underway and some happen without any warning, at least not any conscious warning. This is because Uranus takes the helm in March and this Great Awakener is in conversation with Venus/Mars through a conjunction a the beginning of the month, Jupiter throughout the month (Fire Trine) and Pluto (the infamous Square you are tired of hearing about).
We astrologers love that Venus and Mars travel together as a couple through the Zodiac in 2015. Venus' charm and allure coupled with Mar's drive bodes well in initiating businesses, intimate relationships and creating money flow through personal effort. However, in March, Venus and Mars attached themselves to Uranus like barnacles on a beached log. Now, for some of you, if you have your Sun, Moon or Ascendant in Capricorn, Aries or Libra, you're going to feel this energy intensely. This is because this Triple Conjunction (3 planets transiting in the same sign) Squares Pluto in Capricorn. The exact square with Pluto and Uranus happens between March 12 and 28 with Mars conjunct Uranus (exact Mars/Uranus-Pluto Square at 15 degrees) on March 12th which launches the finale of a 7-part series.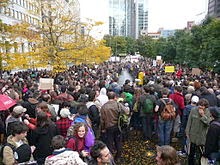 Wikipedia, Occupy Montreal
Globally, I envision unrest with the everyday people pitting themselves against big government, even local government and large corporations. I believe that we will revisit the Occupy Movement in the US and abroad because many people have awakened and demand a world where we get along and treat the earth with respect. I also get a sense that with Saturn turning retrograde on March 15 (in the midst of the Square), authority weakens its hold over the masses. Haven't you noticed more people turning to organic foods and demanding GMO labels on their food products? Haven't you noticed more people growing their own food and communities taking back their power as neighbors get to know each other? And haven't you noticed brilliant children bringing their innovative ideas to the world stage? By the way, that hardly ever happened when I was a child.
However, none of the changes we demand come without chaos and confusion. People lose their jobs (that subconsciously they didn't want in the first place), work forces reshuffle, stocks slide into the abyss, big businesses file for Chapter 11 as more innovative businesses attract the attention of a changing populace who desires transparency and fair treatment of workers. But that's not all, the Earth goes through changes too as temperatures rise, the earth quakes and floods damage property (again freeing people from burdens they subconsciously felt were dragging them down). In other words, not everyone enjoys getting saddled with a mortgage or living in a house stuffed with things when they would rather travel the world. Uranus comes to liberate, not punish. Remember those words during March.
If you have planets, especially the Moon and Sun in Cardinal Signs (and Ascendant) around 13 to 15 degrees, you'll experience the brunt of this life-changing energy the hardest. Build your support network of friends, family and colleagues now and accept the changes as they arrive in your life. Fortunately, Uranus gets a boost from Jupiter in Leo, which could replace everything that we lost during the square with something of greater value. So if you're a Cardinal Sun or Moon and you go through a divorce, your next marriage comes as a boon, provided you did your emotional healing and developed self-love instead of beating yourself up. Please be kind to yourselves and Jupiter blesses you. In fact, Jupiter in Leo tells us to look for creative solutions. And if you can't come up with creative solutions, speak with your children.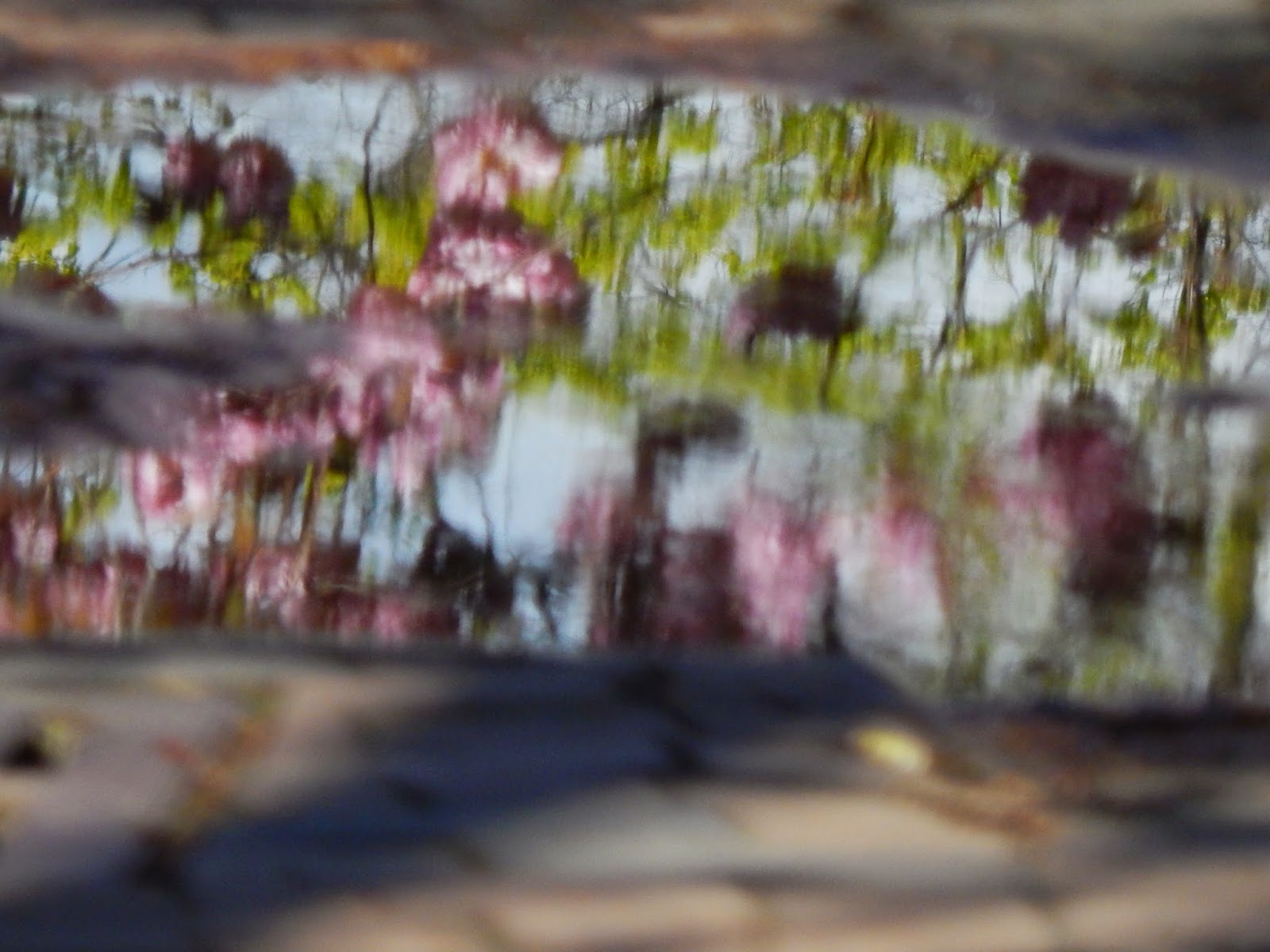 Cherry blossoms reflected in a puddle, by Patricia Herlevi
Venus moves into Taurus on the 17th and those of you with Sun, Moon and Ascendant in Capricorn, Taurus or Virgo are going to feel attractive and not only that, if you spend time in nature or taking care of your bodies using natural products, you could enjoy a sensual three weeks (heading into April). Water Signs experience Venus in Taurus as a sextile, though Scorpio experiences the opposition which might just bring steam to a relationship that was starting to dry out.
Water Signs also find relief with the Mercury/Neptune conjunction from the 15th to the 21st. You might wish to express your dreams through creativity and spiritual pursuits. Water Signs notice their intuitive abilities soar through the roof from the 13 until the 30th while Mercury transits through Pisces. Neptune types and Water and Fire Signs experience restrictions with the Saturn Neptune Square which is featured throughout 2015, going exact this fall. See previous posts on this square.
Finally, we experience a Full Moon at 14 degrees Virgo (15 degrees rounded up) on March 5 which leaves us all working on improving our communication and analytic skills as we solve problems on a personal and a global scale. At this time, we focus on the ways we can serve the world better and some of you might leave one profession for another to be of greater service.
On March 20, we experience three events. First, up is the Solar Eclipse at 29 degrees Pisces. Less than an hour later, the Moon rushes into Aries followed moments later by the Sun also moving into Aries ushering in the Equinox. And Mars (Aries' planet) separates from his conjunction with Uranus (in a tight square with Pluto). All Fire Sign Sun, Moon, and Ascendant natives experience this fiery push into spring (or fall if you're in the southern half of the globe). And Jupiter in Leo expands upon this energy whether it comes off as restless anger or exuberance. Air Signs experience a boon too, but more on the level of inspiration and epiphanies leading to revolutionary breakthroughs.
Water Sign natives could suffer burnout so practice self-nurturing. Earth Signs will experience all this fire as exhaustion in the form of muscle aches and headaches. Ground yourself by hiking, walking, biking, kayaking or other outdoor physical activity. Hang out near trees or garden. You could harness the fire energy to get more work done, but part of you will beg for time out.
Please see my Moon Forecasts for details.
If you would like a personal reading, sign up at Metaphysics for Everyday Living where you'll find my fees and services. Also check out my videos on YouTube and the Whole Astrology Moon Forecast on the New Spirit Journal site.
After March's Uranus-Pluto Square, the Cardinal Signs won't enjoy another major event involving Libra, Aries and Capricorn. But on April 4, we experience a Lunar Eclipse at 14 degrees Libra, forming a Cardinal T-Square...
There are four things you must know about the New Moon at Pisces 29 degrees on March 20. First, the Moon ends a cycle at 29 degrees. Second, the Moon quickly transits into Aries along with the Sun ushering in the Vernal Equinox. Third...
Wikipedia I worked on the video for March's Full Moon yesterday for three hours and decided to include the script here along with the video. I'm not sure if Virgo had anything to do with me talking in a rapid fashion. Perhaps Mercury...
Recently I had the great pleasure of sitting on a local Seattle bus in traffic not knowing if I would catch my Bolt Bus on time (back to Bellingham). I'm not fond of cars anyway and at that moment, the equivalent of fire-breathing dragons surrounded...
photo by Patricia Herlevi Pisces and Aries dominates during March 2013 + Double Yod In all honesty, when I decided to launch an astrology blog I didn't see myself writing about monthly transits. However, the transits for February and March of 2013...